Cartes Catch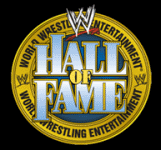 Hall Of Fame Slam Attax
Le Hall of Fame de la WWE est une soirée (institution) un peu particulière dans le sens ou elle accueille aussi bien des grands noms du catch que des non catcheur.Les conditions pour entrée dans le Hall Of Fame ne sont donc pas très claires.
En gros le Hall Of Fame célebre des personnes qui ont eu de grande carriere au sein de la WWE.
Comme pour les cartes WWE Slam Attax il ne s'agit donc pas d'une fédération.
Les cartes Hall Of Fame n'existent plus dans la 2ème collection des cartes Slam, la série Slam Attax Evolution.
13 cartes Hall Of Fame dans la collection Slam Attax (1ère édition).



Regular




166

/172



Regular




157

/172



Regular




163

/172



Regular




161

/172



Regular




164

/172



Regular




162

/172



Regular




160

/172



Regular




159

/172



Regular




155

/172



Regular




167

/172



Regular




158

/172

The Mouth Of The South Jimmy Hart

SLAM ATTAX


Regular




156

/172



Regular




165

/172